Gregg Grande Suspension
Gregg Grande suspension has a white, satinized diffuser that totally embraces the light source and gives excellent light diffusion. Gregg pendant series Foscarini is organic, elegant and a familiar shape that does not use pure geometry. The eclectic personality of its volume offers a different image depending on where you view it from. Available in a small, medium and large size option. Fixture available in pendant, floor and ceiling flush mount version. One 150 watt, 120 volt, T10 double envelope medium base halogen lamp not included. General light distribution. 18.5W X 15.75H.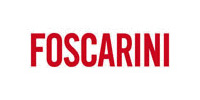 Foscarini lighting was founded in 1981 with the belief that light is the vibrancy of energy and soul. Openly exploring the possibilities of Murano glass, there are table, floor, and ceiling fixtures each uniquely produced by over 20 designers. Foscarini lighting fixtures, including O-Space, Uto Light, and Big Bang, are available in satin-finished glass, polyethylene, wood and aluminum, or an exclusive textured glass-tissue. Foscarini is a place where ideas are transformed into a tangible reality all created with the intent of "lighting up the rooms of your life".